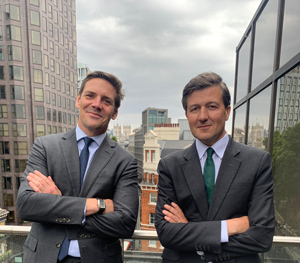 A new political communications consultancy, Atticus Partners, has been created from the combination of two award-winning agencies, Atticus Communications and Atlas Partners. The new partnership will be comprised of 30 staff and advisors with an established client list including some of the biggest national and international brands such as Meta, MoneySuperMarket, Match Group, DXC Technology and WWF.
As a combined force, Atticus Partners has already welcomed several new business wins including Liminal Space, Registry Trust and Survivors of Bereavement by Suicide, and made a series of new hires to support continued growth. These include Patrick Adams, former Senior Parliamentary Assistant to Lord Kamal, Alex Tiley, former YMCA Policy Manager and Aliona Hlivco, former Ukrainian regional politician and Strategic Relations Manager at the Henry Jackson Society. The agency will also be advised through Senior Counsel support from the likes of James Frith, former Labour MP; Peter Cardwell, political journalist and former Special Advisor to four Conservative Cabinet Ministers; Mary Jo Jacobi, former Special Assistant to Ronald Reagan and Assistant US Secretary of Commerce; and Simon Gentry, ex SEC Newgate and the Association of British Insurers. The news comes off the back of Atlas Partner's co-founder Vanessa Pine's departure from Atlas Partners and move to Australia.
The new company is committed to delivering a diverse, well-rounded, highly capable team who can respond to the unique needs of our broad range of international clients. The agency will provide clients across a multitude of sectors and geographies with increased capacity and a widened expertise, whilst still delivering a bespoke, boutique approach to clients. Atticus Partners sees every brief as an exciting challenge, and the pursuit of excellence will guide the company to deliver the best possible work utilising the full breadth of its impressive team.
The newly combined collective of creative communications experts have overseen corporate transformation, managed global risk, responded to crises, spearheaded client strategy, and led legislative change. Individually, Atlas Partners won PRCA Public Affairs Agency of the Year in 2019, and Atticus Communications, New Consultancy of the Year for PR Week's Corporate, City & Public Affairs Awards in 2021 respectively.
Leon Cook, Co-Founder at Atticus Partners, said: "Atticus Partners' combined presence will provide new and prospective clients with strategic counsel and delivery to match any requirement, and we are thrilled to begin putting this into practice. Whether it be Westminster, Brussels or within the DC beltway, we've worked in all of the major political capitals and have an acute understanding of how to navigate the most complicated geopolitical problems and shape the debate. Our diverse group of consultants are drawn from a wide range of sectors and fields, which will provide our clients with holistic solutions to their individual needs."
Charles Napier, Co-Founder at Atticus Partners, said: "Political and market forces shape reputations and partnering with Atticus allows us to meet client needs in a more integrated and sophisticated way. It also allows us to invest in our international credentials, whilst also increasing our at-home capacity. I have known and worked with Leon since 2010 and am very excited about the potential of this partnership for our team, our clients, and our future growth.
Although very sad to see my Atlas co-founder Vanessa go, I understand the allure of Australia and the chance to go off and pursue new adventures. She has been a wonderful business partner, from whom I have learnt much, and we all wish her every happiness and success in her new life down under."
Vanessa Pine, Departing Co-Founder of Atlas, said "I'm incredibly proud to have built a strong team and sustainable business at Atlas over the last seven years. As I head off for new adventures, it's been really rewarding to have supported the integration of the Atlas and Atticus teams as they successfully join forces. I am excited to see Charlie, Leon and the team take the business forward to new heights."