Public Affairs Surveys
The PubAffairs network has carried out a number of practitioner Surveys, researching information including salaries, bonus, pensions and holiday benefits, as well as looking at career moves and aspirations within the public affairs sector.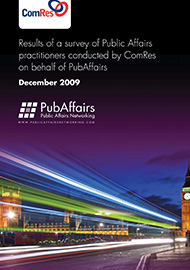 Survey 2009
Results of a survey of Public Affairs practitioners conducted by ComRes on behalf of PubAffairs. ComRes surveyed 398 practitioners working in Public Affairs via online surveys. The fieldwork was conducted between 29 March and 20 May 2009. Demographic information was gathered to offer analysis by organisational type and also job role. In order to aid analysis
results were broken down by those who work in Consultancies, Charities and NGOs, Trade Associations and Companies. There
is also analysis provided by different job positions within each organisation.
Sector/Job Role
Average Salary
Approximate Range of Salary
Consultancy
Account Executive
£25,000
£18-32,000
Account Manager
£35,000
£25-45,000
Account Director
£44,000
£35-55,000
Associate Director
£54,000
£45-70,000
Director/MD
£66,000
£60-100,000+
Charity or NGO
Executive
£32,000
£26-35,000
Manager
£38,000
£28-45,000
Head/Director of Public Affairs
£44,000
£38-57,000
Trade Association
Executive
£28,000
£23-35,000
Manager
£37,000
£27-50,000
Head/Director of Public Affairs
£50,000
£35-71,000
Company in-house
Executive
£30,000
£23-36,000
Manager
£51,000
£30-75,000
Head/Director of Public Affairs
£76,000
£60-100,000+
Survey 2005
PubAffairs and CommunicateResearch joined forces to conduct the most comprehensive survey ever of public affairs professionals in the UK. The results, published on 31 October 2005, revealed the range of terms, conditions and benefits enjoyed by practitioners as well as attitudes towards professionalisation and other issues of relevance to the sector.
A key finding of the research highlighted that whilst public affairs is often categorised as being part of the public relations or the corporate communications industry, some 88% of respondents regarded themselves as public affairs practitioners rather than PR professionals. Perhaps as a consequence of this, some 79% of those working within the sector believe the public affairs sector should have a professional association covering the entirety of the industry.
PubAffairs is the network for public affairs practitioners, providing opportunities for contact-building within the industry. Substantial proportions of respondents indicated that they felt their confidence had increased and that they had used the contacts made in a work context from being involved in the PubAffairs network.
Survey 2003
The PubAffairs Team carried out the first PubAffairs Practitioner Survey in 2003. This was a general survey of members which enabled results detailing salaries, holidays, pensions and other benefits and working conditions.