Former Conservative MP & Health Minister Alistair Burt and ex-Financial Conduct Authority (FCA) Chair John Griffith-Jones have joined GK Strategy.
The pair have been appointed as Strategic Advisers to bolster GK's strategic counsel offer to clients in the health and financial services sectors. They join former Lib Dem Education and Treasury Minister David Laws and Labour's former Care Minister Phil Hope on the agency's advisory team.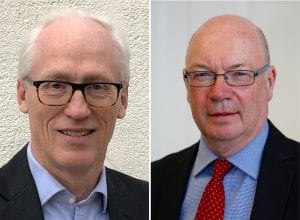 Burt served as Minister of State for Care at the Department of Health, overseeing primary and community care and mental health. He has held several ministerial roles over a 33-year career as a Conservative MP, including at the Foreign Office, Department for International Development and Department for Social Security. He left the Government and stepped down from Parliament in 2019.
Griffith-Jones was the inaugural Chair of the FCA from 2013 to 2018. He brings additional experience in financial services from his prior career as UK Chairman and Senior Partner at KPMG.
GK Strategy is an independent strategic communications agency working with clients in the public, private and third sectors to influence public policy and shape reputations. Health and care organisations make up GK's largest client segment in the public affairs market, while the agency also pioneered political due diligence services for the private equity industry, advising on 325 deals worth over $15bn across a range of sectors to date.
Alistair Burt said:
"I'm excited to be joining GK at a crucial time for the health and social care sector. COVID-19 has quickened the pace of reform for the care sector and crucial NHS legislation is expected in the New Year. I'm looking forward to working with GK's clients to help them navigate this period of change."
John Griffith-Jones said:
"COVID-19 has had a devastating impact on the economy, which will be felt by the financial services sector acutely. The sector also faces many other challenges, from a shakeup of audit regulation to changes caused by the digital revolution and a greater use of big data. I look forward to helping the sector find its voice, in order to meet its challenges head on and drive the UK economic recovery."
Robin Grainger, CEO of GK Strategy, said:
"Organisations across the health and care sector and financial services sector are increasingly seeking support on strategic communications and policy research. Alistair and John bring decades of experience from government and the private sector to advise our clients on policy engagement and political risk, and we're delighted to have them as part of our growing team."