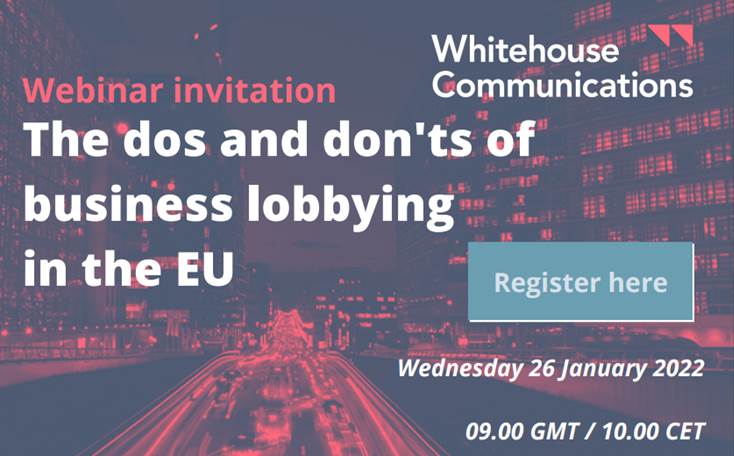 Whitehouse Communications is delighted to invite you to our exclusive webinar discussion on "The dos and don'ts of business lobbying in the EU: a Whitehouse webinar", taking place on Wednesday 26th January at 09.00 GMT/10.00 CET – 10.00 GMT/11.00 CET.

Businesses play an important role in the Brussels' policy environment and can provide policymakers with crucial insights into policies being considered by the European Union. Some businesses are very effective at getting their messages across and others struggle, or worse, mire themselves in controversy.

Dr David Coen, Professor of Public Policy at the Department of Political Science at University College of London, has just published a book that analyses lobbying in the EU, based on research sponsored by the European Parliament.

David will be presenting his findings at the webinar and his conclusions will be discussed by two people deeply engaged in the process, one as a recipient of business arguments, the European Parliamentarian Pilar del Castillo Vera, and one as an adviser to businesses, Dr Andy Tarrant of Whitehouse Communications.

We can expect the speakers to engage with questions such as:
How is lobbying in Brussels different from other jurisdictions?
How has business lobbying evolved over the years?
How does one develop a successful lobbying campaign?
When and how does one best approach policymakers on an issue?
We have also allowed a good amount of time for attendees to pose their questions to the panellists.
Panellists
The attendees will hear expert input from the following speakers:
Professor David Coen, Professor of Public Policy at the University College London
MEP Pilar del Castillo Vera (EPP, Spain)
Dr Andy Tarrant, Director of EU Affairs and Public Policy, Whitehouse Communications
The session will be moderated by Whitehouse's COO & Head of European Affairs, Viviana Spaghetti.